Gl!! Parabéns!! Bemvindo ao teu site de parabéns oficial, feito só para ti!
Queria estar aí para te poder dar um abraço de anos, mas vais ter que o imaginar (provavelmente fazias um barulhinho de ficar esmagado).
Pus aqui umas histórias de grandes artistas que me inspiram! Achei que se calhar também ias gostar!
O que eu gosto mais das histórias é que dá para perceber que são sobre pessoas normais como eu e tu, e que toda a gente as ignorou ou criticou no principio. Foi à medida que a dedicação delas foi resultando em coisas fantásticas, que foram ganhando successo.
Já deves conhecer algumas destas histórias!
Um abraço grande!!
Gaga began playing the piano at the age of 4, went on to write her first piano ballad at 13, and started to perform at open mike nights by the age of 14.
When she finished high-school, her mother encouraged her to apply for a musical theatre training conservatory at New York University's School of the Arts.
There she always felt that she was more creative than some of her classmates. "Once you learn how to think about art, you can teach yourself," Lady Gaga said.
By the second semester of her 2nd year, she withdrew from New York University to focus on her musical career. Her father agreed to pay her rent for a year, on the condition that she re-enroll if unsuccessful.
"I left my entire family, got the cheapest apartment I could find, and ate shit until somebody would listen," she remembers. Settled in a small apartment in the summer of 2005, Gaga recorded a couple of songs with hip-hop singer Grandmaster Melle Mel, for an audio book accompanying the children's book The Portal in the Park, by Cricket Casey. She also began a band called the Stefani Germanotta Band (SGBand) with some friends from university.
SGBand were selling their records at gigs around New York while becoming a regular band in the club scene. Gaga was in the process of trying to come up with a stage name when she received a text message from a friend that read "Lady Gaga." Her friend explained, "Every day, when Stef came to the studio, instead of saying hello, I would start singing 'Radio Ga Ga'. That was her entrance song".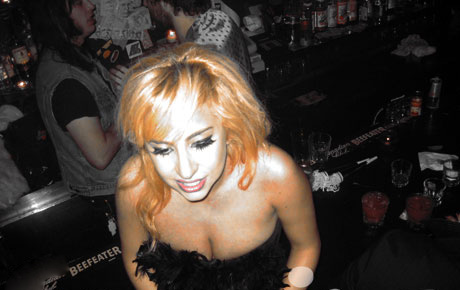 Gaga was signed to the Def Jam Recording Company in September 2006 with the intention of having an album ready in nine months. However, she was dropped by the label after only three months – an unfortunate period of her life that later inspired the 2011 music video "Marry the Night". Devastated, Gaga returned to the solace of the family home for Christmas and returned to the nightlife culture of the Lower East Side of New York.
She became increasingly experimental: fascinating herself with emerging neo-burlesque shows, go-go dancing at bars dressed in little more than a bikini. During this time, she met performance artist Lady Starlight, who helped mold her on-stage persona. Their live performance art piece was known as "Lady Gaga and the Starlight Revue" and, billed as "The Ultimate Pop Burlesque Rockshow." It was a low-fi tribute to 1970s variety acts.
Soon after, the two were invited to play at the 2007 Lollapalooza music festival in August that year. The show was critically acclaimed, and their performance received positive reviews.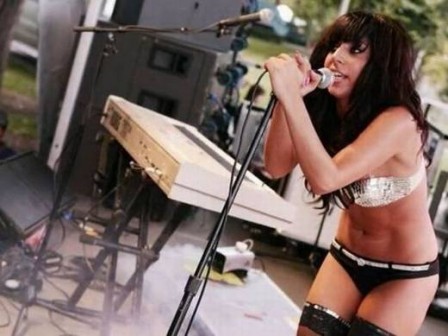 Lady Gaga was initially focused on avant-garde electronic dance music, but Gaga had found her musical style when she began to incorporate David Bowie and Queen into her music. While Gaga and Starlight were busy performing, her producer Rob Fusari continued to work on the songs he had created with Gaga. Fusari sent these songs to his friend, producer and record executive Vincent Herbert. Gaga later credited Herbert as the man who discovered her, adding "I really feel like we made pop history, and we're gonna keep going."
Gaga subsequently struck a music publishing deal with Sony. As a result, she was hired to write songs for Britney Spears and labelmates New Kids on the Block, Fergie, and the Pussycat Dolls. While Gaga was writing at Interscope, singer-songwriter Akon recognized her vocal abilities when she sang a reference vocal for one of his tracks in studio.
The first song she produced with producer RedOne was "Boys Boys Boys", a mash-up inspired by Mötley Crüe's "Girls, Girls, Girls" and AC/DC's "T.N.T.".
Gaga continued her collaboration with RedOne in the recording studio for a week on her debut album making the chart-topping singles "Just Dance", "Poker Face" and "LoveGame" together. By 2008, Gaga had relocated to Los Angeles, where she worked extensively with her record label to complete her debut album. A sleeper hit, "Just Dance" hit the summit of the charts in six countries – Australia, Canada, the Netherlands, Ireland, the United Kingdom, and the United States – in January 2009.
The Grammy Award-nominated song provoked the instant success of The Fame. The album went to number-one in countries like the United Kingdom, Canada, Austria, Germany, Switzerland and Ireland while appearing in the top-five in Australia, the United States and fifteen other countries.